Welcome to the Gypsy Horse For Sale Home Page.

This site is dedicated to helping buyers purchase, and sellers sell, Gypsy Horses, Gypsy Cobs, Irish Cobs, and Gypsy Vanners ®.
Please click the logo to navigate the site and see sale horses. Our mission at GypsyHorseForSale.com is twofold. First, we wish to to provide buyers with a site to look at sale horses from many individuals/breeders/importers that is user-friendly. Secondly, we wish to provide all sellers with a central place to list their horses.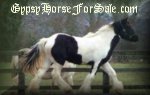 For Sale Page, other links are listed below.
We have added a Drum Horse Sale page to this site. Only Registered or registration pending horses will be listed. Please let us know which registry you will be using.
Details are on the Drum page.
Ads are free with one photo and we request a link on your website for promotion. The founders of GypsyHorseForSale.com do not make a commission off the sale of any listed horse. At this time, this page is for "registered" Gypsy Horses (or pending registration)using proper registries.
You can list your horse by contacting this email address: Gypsy Horse For Sale
Please send a brief description of your horse along with a photo if you wish.
Interested in a farm link? Click here

Would you like to use our logo? Click here Logo - Right click on logo and save photo as.

GypsyHorseForSale.com is not responsible for the information in each ad that has been submitted by the seller/representative for each horse. GypsyHorseForSale.com does not verify the accuracy of the data, and assumes NO liability in the purchase/sale of any horse listed. This is simply a sales list for the benefit of buyer/seller of Gypsy Horses. Prices subject to change without notice. Please do not contact this site for information on a listing, please contact the seller listed.

Website established on May 21, 2004.
© Owned by GypsyHorseForSale, no reproduction without permission.